Xenia Township Fire Department Awarded Chest Compression Device
With support from Firehouse Subs Public Safety Foundation, Xenia Township Fire Department was awarded a chest compression device. The crew put their training, knowledge and tools to the test when saving the lives of three cardiac arrest victims within four months.
The chest compression system assists first responders by providing effective and uninterrupted chest compressions to sudden cardiac arrest patients. Rescuers are freed up to focus on other lifesaving efforts when they have this tool on hand.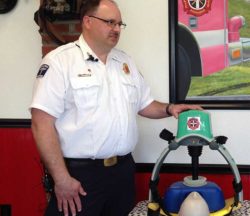 It's our goal at Firehouse Subs Public Safety Foundation to improve the lifesaving capabilities of local heroes and this equipment does just that. Three people are alive today because of the efforts of this heroic crew and the generosity of Foundation donors.